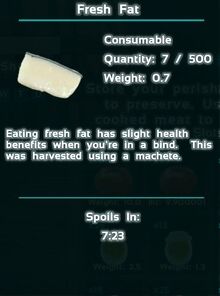 Eating fresh fat has slight health benefits when you're in bind. It does expire.
Another way to use it´s to cook it in the Primitive Grill for gaining Organic Oil. 15 Units Fresh Fat are converted into 10 Units of Organic Oil.
Consumable
Stackable: 500
Weight: 0.1
Tip: This tends to be harvested from Phiomia's.
Edit