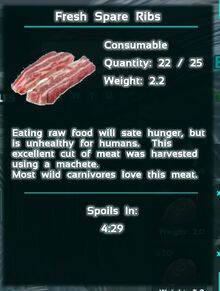 Fresh spare ribs are harvested from animals (Trike) using either a dinosaur, an axe or a machete.
Eating raw food will sate hunger, but is unhealthy for humans. This excellent cut of meat was harvested using a machete. Most wild carnivores love this meat.
Tip: Unsure how this compares to prime meat but carnivorous dinos will eat it faster and it seems to work much the same.
Edit